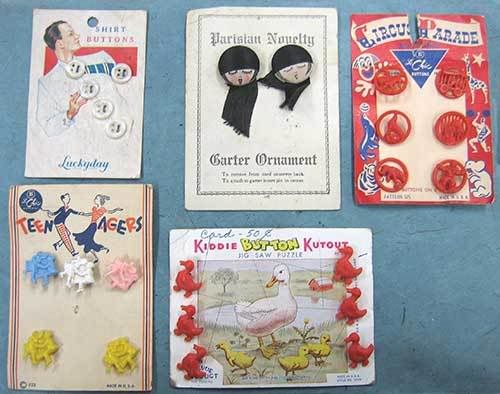 I collect buttons.  To me, they are exquisite pieces of miniature art.   Some of the vintage button cards also have wonderful graphics.  As a design student in New York, one of my favorite haunts was was a tiny retail store on the upper east side of Manhattan, Tender Buttons.  There, unlike the wholesale button stores in the fashion district, the buttons at Tender Buttons were sold individually and were expensive even back then.  To me, going to Tender Buttons was like visiting a museum.  The owners loved to talk about their buttons and it was always a learning experience.   I saved my money to buy a few buttons when I could, and my button collection slowly grew.  The store is still in the same spot at 143 E. 62nd St. at Lexington Ave.
Later, I joined a local button club and the state and national button societies.  At the meetings, a member would talk about a specific type of button such as 19th century lithograph portrait buttons and bring some examples to show.  Then we would check out buttons people had brought to sell.  The state button club meetings had a room full of button and button frame vendors.  They were wonderful for finding unusual buttons.
A button face card made with buttons from my collection.  Some of the buttons include two celluloid Art Deco flapper buttons 1920's - 1930's (top and bottom of card), a bone cat button, bone flapper button, bone face button 1920's (second and fifth rows), a sterling Victorian Kate Greenaway button with girls dancing, red horn portrait button (third row), tintype - mid to late 1800's (fourth row), Victorian portrait lithograph buttons (fourth and fifth rows), child photo portrait button 1930's (fifth row), painted wood dog heads button and mother of pearl dog head button(seventh row), and two Japanese Satsuma buttons (eighth row).
My button collection had always been stored in small drawers and was brought out for browsing or showing to friends.  From other members in the club, I learned about displaying buttons on button cards and about the special button card frames that are used to display them.  Now I have some of my favorite buttons in frames on the wall going up the front hallway stairs.